MAGS Competition entry:
The Devious and Daring
Commando Raid
of Linkattus, the Lowly Janitor Rat,

In Order to Free
Ratzelda,
the Princess of His Dreams,
And to Get Her, Too
Dear Community, I proudly present this adventure as my MAGS entry for May 2018 (ĄRatsď).
It features
∑ a BASS like interface,
∑ hand-drawn art in Inkscape,
∑ original music, recorded from a Yamaha keyboard and edited in Audacity
∑ the AGS system by Chris Jones and later contributers
∑ lots of Adventuring and Frolicking :-)
∑ bugs (probably :-)

Get the game here:
∑ For Windows (55 MB)
∑ For Linux (52 MB) (compressed with 7-zip, untested, I donít have a Linux game machine)
Youíre warmly invited to give feedback and send bug reports, either via the AGS forums or as personal messages to fernewelten. If you're stuck, ask the Hints and Tips forum.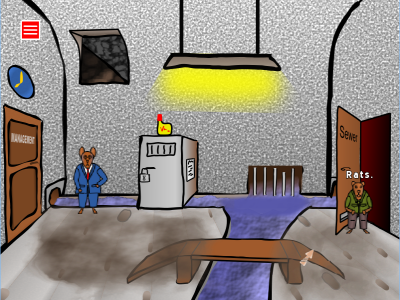 Iím planning to continue working on this game. Later, non-MAGS versions will move to a different download location; for details cf. the AGS Game download repository (search for it through the field in the right column).